The best care agency in the 'world'
Blog #11
Hello!
I am going to start with the next item from my goody bag.
Which as it turns out is spot on when it comes to this month's topic. 
'French people don't believe that anything is important except daily living.'
 Gertrude Stein
I used to have this sign up in my house in France. 
When I was there I didn't need reminding. Now that I am living in a melange of the English and American way of life it just makes me even more aware of the difference. 
But before I go into what I mean by this let's look at why any client or carer would choose Care and Choice? 
Of course you can check out their website and testimonials but maybe I can throw some light onto what gives them the edge and why they received a fully justified.
Best Live In Home Care Provider Award, this year. Given by Southern Enterprise Awards. 
I have often asked clients and or their representatives over the last six years
.Why Care and Choice?
Without exception the answer has always been…The personal touch. 
'You don't feel like you are phoning a business where you can be passed from pillar to post, not to mention that dreadful, press 1, 2, 3 # etc. You really feel they care and you do have a choice.'
The founders of Care and Choice, have loads of experience in their field. 
 They also had the extremely useful experience of briefly working for a company that was taken over by a conglomerate who went on to demonstrate how not to do the job! 
I am being subjective here, you may say, and yes I quit the same company. 
But luckily for me, other carers and obviously many, many clients we are grateful to Lynne and Sally for taking the plunge and reminding us all that sometimes, if it aint broke don't fix it. 
Caring for someone in their own home can be fraught with misunderstandings and this is where Care and Choice come into their own. 
Their detailed questionnaires that clients fill in go a long way to marrying up the right carer to the right client. 
However, anyone can say anything. They can write a wonderful resume. It may all be 100% accurate but without compassion, kindness and empathy that bit of paper is only suitable for kindling. 
So with years of experience between them, all the lovely ladies at Care and Choice have become adept at reading between the lines and encourage both clients and carers alike to voice concerns as well as forwarding praise. 
And that is genuine. 
It is easy for companies to say…Please tell us about any grievances but how they respond can totally wipe them out. 
I recently stayed in an Airbnb where the resident owner said. I welcome any criticism as a gift. 
Well, I was the gift that kept on giving. It was so bad I searched for somewhere to move to but without luck. 
Covid, of course, has made moving around far more difficult. So I had to put up with an unpleasant situation. Once it became clear that my concerns about health and safety were to be dismissed I had little choice but to stay put, having paid upfront. 
I mention this because it can be a similar situation with live- in carers and clients. 
When some clients have raised concerns about other carers, the client will almost always say…But don't tell the agency. They fear reprisals however unfounded or trivial their concerns may be, it is their life, their home and their comfort is paramount. 
I was only thinking this morning about how my mother used to chastise my father.
He would say. I feel cold. 
She would respond. Don't be ridiculous, it's not cold in here. 
My point being….There are facts and there are feelings.
For some people, their world is the only one that truly exists. 
So…back to the French (traditionally, not sure this still applies)and their love of everyday life. 
I have said it before and I don't apologise for saying it again. 
The rhythm of the day is important to me. 
I really don't like strict routines but the ebb and flow around meal times is something that makes me feel secure.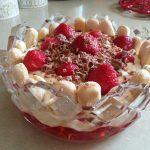 Home made trifle. Looks good enough to eat 😉
I can only speak for clients in England and Wales who have been predominantly in their 80s and 90s but they too have a daily routine that focuses on mealtimes. 
This is one of the many reasons I love doing this 'job'.
Food for me is a pleasure. Sourcing, preparing, displaying (yes, it has to look nice before I eat it) and devouring. And thank goodness for dishwashers! 
From what I see with the current 20 and 30 year olds, meals seem to be becoming a movable takeaway 'feast'. 
There are so many cookery programmes on tv so I guess people still love food and cooking together can be so enjoyable. 
But actually sitting down together and enjoying the whole process…is it declining?
And if so why? 
Will the current 90 year olds be the last generation to see this daily life as normal?
I can only hazard a guess at what will be 'normal' in the 2080s but let's hope someone takes on the mantle of award winning care agencies.  They will still be needed. 
Meanwhile, here's hoping that 2022 will bring some happiness to each and everyone of you! 
P.s Next blog will be in March 2022.