The best job in the world #10 Care and Choice.
December: It's a month of mixed emotions for many.
Great for most families, especially with young children but others are facing their first Christmas without someone very special. And some families misinterpret the meaning behind Boxing Day. A day of flared tempers, fisticuffs and walkouts.
So many feelings collide over a few days.
Yep, you guessed it. Not my favourite time of year.
No two Christmases have been the same for me, ever.
And that is fine.
Variety is the spice of life.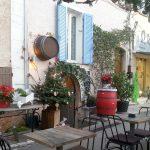 With this in mind, this month's blog will have none of that doom and gloom and everything to do with making you smile, I hope.
It's certainly always my intention.
Here is an old picture of Christmas 2016 in Tourettes-sur-Loup, France.
Thinking outside the box. 
And now of course you are all dying to know why on earth I would be going to the Nice Opera with my pockets stuffed with tea bags. (N.B. Refer to November blog for clarity)
First of all, I had to navigate the glamour versus comfort scenario.
It was Nice in the south of France and the Opera!
November 2018. The Pearl Fishers by Georges Bizet.
My all time favourite aria in this clip.
BIZET: The Pearl Fishers "Je crois entendre encore" (Philippe Talbot) [HD]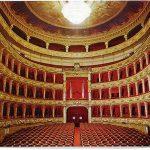 Of course most people are deposited outside by car and therefore warm attire or heaven forbid waterproof clothing will never be an issue.
For us mere mortals staying in a nearby hotel as buses going inland (and home) don't run late, I still have to be comfortable.
I arrived with an hour to spare. This was intentional as I wanted to savour the build-up to the experience. It was so lovely to see the majority of people had 'dressed for the occasion'.
This was not the case when I went to the Coliseum in London the year before.
But back to the deserved reputation of the beautiful Cote d'Azur.
See below: The Opera house as seen from 4-6 Rue Saint-François de Paule, 06300 Nice, France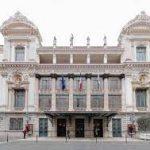 This was 2018 and cash was slowly being dispensed with in many cafes and shops but many still had a minimum spend to use a card.
My tiny black bag held, passport (as I don't have an identity card) debit card, tiny notebook and pen,  mobile phone,  house key and a two euro coin for the bus. And that's my bag… full.
I sat in a cafe opposite the Opera with floor to ceiling windows, the perfect vantage point for people watching and ordered a decaf coffee and a tarte citron meringue. This came to the princely sum of eight euros. I offered my debit card but was politely told that fifteen euros was the minimum spend.
Bearing in mind I was about to go to the Opera I certainly didn't want to carry any shopping as such, so I opted to buy a box of fenouil tisane (fennel tea bags).
Sixteen euros. Problem solved.
Well almost.
My outfit that evening was my favourite yellow/gold crushed velvet coat (bought in Galerie Lafayette, Paris circa 1993)  It has two deep pockets.
So rather than walk into the magnificent 17th century building opposite clutching a box of tea bags I found a simple solution.
The waitress returned with my debit card and receipt and I duly offered her the empty box.
'Pour the poubelle' I declared. (I couldn't recall the name of the recycling bin)
The box had contained twenty bags and now it was empty.
I admit I let her ponder this for a moment. She stared down at my empty coffee cup…
No signs of a mountain of soggy tea bags.
I got up and was about to walk out when I turned back and produced a handful of tea bags from one pocket.
I know I was laughing but I still have no idea how to describe the expression on the young waitresss's face!
No doubt I had just added to the French nation's perception of the Barmy Brits…but someone has to do it.
You're welcome 😉
I guess I should be especially glad that it didn't rain that evening as I walked back to my hotel!
**
Now let me share my personal favourite Christmas story. It can be found in
 A Mouse in the Vinaigrette. Chapter 11. The Spirit of Christmas.
Available now on Amazon. E book and paperback.
And if you enjoy stories about care work.
A Carer's Survival Guide.
Ebook and paperback. Coming soon!
And not forgetting the goody bag. 
The card was a freebie from Yves Rocher. The wonderful , all au naturel, cosmetics company that I have been using since my teens.
A gift pack of cards was much appreciated back when snail mail was still socially acceptable and not extortionately priced. I digress…
This particular card I used to write a very special message, a request in fact and it quite literally changed my life.
I have long been a believer that the best way to find what you are looking for is to ask for it.
Simples.
And as Madonna once said when asked for one piece of advice, never take no for an answer.
The lovely manager of the local supermarket in the village I had chosen to be my home (I just needed an actual building)  was adamant. He didn't have room to place adverts anywhere around his till.
I somehow convinced him to place my card on the side of the cash register for one week then take it down.
He did his famous sigh and shrug and acquiesced.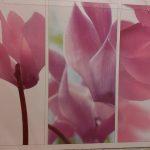 My prayer was answered and the rest as they say is history.
But here is the really interesting/positive part.
The American owners of the property never went into that particular supermarket before.
But they had run out of wine. Quelle horreur!
Yay for the French way of life.
They weren't even sure if they wanted to rent out the wonderful small house that became my home.
I assured them that I would be the best tenant ever!
Patrick at Vival in that supermarket became a friend for life and still is.
And so there it is.
If you don't ask, you don't get.
Stay focused and do whatever it takes.
N.B.  But just don't give up on paradise when it gets tricky. 
Better to have loved and lost than never loved at all?
In this case? Certainly!
And cheers to you all.