The best job in the world. Care and Choice.
The job I meant to do for twelve months has lasted 28 years and I find myself reflecting on just how much has changed. I would like to say for the better but has it?
In 1993 I turned down a job with a book publisher/distributor,  survived a summer as a campsite rep and applied for live in care work.
The biggest difference of course is our access to social media. In some ways it is reassuring to have someone to reach out to when things get tricky. That's carer's code for 'I'm tearing my hair out, somebody help, please? '
On the other hand, it all seemed so much simpler when you arrived at your client's home for two weeks and that was your life for the duration. I used to phone my parents to say I had arrived and gave them, with the client's permission their landline number. Calls only permitted during carer's break. But that was the norm, back then.
Now, we are in constant contact with friends and family around the world with a simple tap and a swipe.
It's horribly addictive but I always check to see how my current clients feels about this intrusion.
Some, in their 90's happily use their own ipads, some sigh with frustration at the mere sight of the dreaded smart phone. We have to adapt and respect our clients' wishes or at least be discreet.
But the one thing that really bothers me that seems to have only come to fruition in the last few years is comparing live-in care to jobs that are paid hourly.
We are not plumbers! We do not turn up, fix a leak and leave. We are there to continue to provide a safe and happy environment. One that the client(s) have been nurturing for a lifetime.  The ideal is that we facilitate normalcy as much as possible. We get fed and watered. Hopefully have a comfy bed and bedroom, tv and yep, wifi. Meanwhile apart from saving on food costs, if you have your own home  you will be saving on some of the running costs there too. Some clients will be early risers, some will go to bed 'late'. It's up to carers to check these details before accepting an assignment. Live-in carers cover 22/24. Hopefully 8 hours sleep is the norm but we do have to be a little flexible.
You can't quantify this 'job' and demand hourly rates. I know agencies have issued guidelines about working hours but what constitutes 'work' exactly? Cleaning the toilet or having to sit through the same episode of Dad's Army…again!
My philosophy is this. Find out as much as you can about a client before you go. Ask about what is important to you. Warm house? Use of car? Pets? Ask about possible common interests/ hobbies?
Whatever happens, you will learn something from your client and vice versa. You may find yourself tearing your hair out or laughing your socks off but you won't be bored. And please don't watch the clock too closely, this is the client's home not a detention centre!
And the beauty of the best job in the world? You can return or put it down to experience. Remember, the choice is yours.
**
The highlight in my goody bag this month is the room service, breakfast menu from the Phoenicia Hotel in Valetta, on the island of Malta.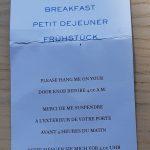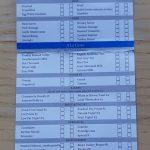 Glancing at it now, dangling on my wardrobe door in a 15c cottage in the Sussex countryside just makes me smile.
Yes, I am pretty much obsessed with food but it's not just a happy reminder of the enormous choice that was available but the whole story of how I ended up booking one night in this 5 star hotel with correspondingly eye watering prices  and actually staying 5 nights! Regrets? Not one.
So what does this have to do with care work? I was booked to go to a client for one week but sadly she passed away the day before I was due there. There was no contract with the family and therefore they didn't have to pay me. However, they did send me a cheque for £250.
Now, a normal person would have thought, Oh dear I have no work for a week and less than half what I would have been paid…I better look for some more work.
Somehow, my brain goes…Ooh, one week of freedom and  £250 where shall I go?
A return flight to Malta, one night in a 5 star hotel (because I'm worth it) and 4 nights in a cheap airbnb. Sorted.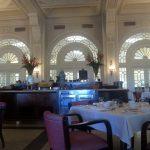 Malta has a lovely climate and what feels like a step back in time to a more elegant age, once you step across the threshold of the Phoenicia hotel. Other than that I hated it.
After one night in the most comfortable bed I have ever slept in and the most wonderful breakfast in the dining room which I managed to stretch to 90 minutes, I had to leave.
I knew as soon as the taxi pulled up at my new destination I had made a huge mistake.
A seafront awash with kebabs, pizza and formica tables. Uh-oh.
I coughed and spluttered my way up a side street and finally located the building that housed my airbnb for the next 4 nights! I am already wondering if I can bring my return flight forward.
The coughing and spluttering continued as I climbed two flights of stairs with my suitcase. Every building in this street seemed to be shrouded with fine white dust. Scaffolding aiding and abetting sanding of the stone walls, everywhere.
I'll be fine once inside, I thought. Within 15 minutes I had trouble breathing. The walls inside the apartment were glowing with damp and mould! A lovely French couple could see my distress and casually mentioned that her father had to use a nebuliser when he visited!
Long story short, they later, refunded my money in full.
However, finding somewhere else to stay on Malta when it is the week of the live broadcast of the MTV awards ( I hadn't realised) is another matter.
I literally dragged my breathless self and suitcase along the seafront for about a mile but everywhere was complet!
Only one thing for it. I phoned the Phoenicia and pleaded with them to take me back.I didn't ask the price.
Once back in the 5 star haven I started to negotiate a suitable price for 4 nights. Possibly not how their usual guests behave? But the damp, the mould, I couldn't breathe, I'm a carer, help!
I absolutely loved and still cherish every moment of my stay. I wrote a glowing report on their website.
When it came to checking out, I held my breath. Would my credit card fling itself across the hotel lobby in disbelief? Would the bank phone the hotel? The card must be stolen! She never spends that amount in one go!
However, before that could happen the manager presented me with my bill.
The night of the MTV awards (I had a free view of the back of the stage and with my window open, perfect sound, so I live streamed the concert on my laptop with the sound turned down) Genius!
What I hadn't quite understood was that my room doubled in price that night! Ooops.
Going with the hotel guest is always right, routine, I calmly explained that I had negotiated a better deal with Bruno (on night duty)  when I first arrived back in the hotel.
The manager, a Maltese Basil Fawlty managed a fake smile and tore up the bill.
He disappeared into his office and returned with an amended version, which I duly paid. I mentioned that I hoped I hadn't got Bruno into trouble?
Dead pan: Monsieur Maltese Fawlty replies; Oh no, I'll just take the difference out of his wages!
Gulp!
Now, bearing in mind I had to present my passport when I arrived, not to mention my credit card details, I think I would be fairly easy to find in …Cardiff. I did alert my best friend, whose house is my home for now, that if a guy named Bruno turns up…make him a cup of tea and apologise profusely whilst I try and find him a job!
And to think I could have been watching Emmerdale every night for a week and warmed up Heinz tomato soup whilst searching for a knitting pattern that has somehow got lost under the sofa.
Variety is the spice of life. N'est pas?
**
I also know enough about 5 star hotels that you leave a tip for housekeeping.  As I had maxed out my credit card and cash was not an option I left what may be the most unusual tip they have ever had. As I had been planning to do self catering for 4 days I had bought a large bag of oats. Porridge being my staple even in summer! I wish I had seen their faces when they discovered what the bonkers English woman left behind!
**
Coming up in May.
*Peaceful porridge!
*Item #2 in my goody bag. Rhul Plage. More on the breakfast theme. 
*When I ask my clients, once I get to know them; If you could go back and change one thing in your life, what would it be? What was interesting was the speed of their replies and the clear gender divide.
*Pet peeves: Other carers.