I know I am home because…
People said thank you ( well, ok, merci) to the driver as they got off the bus.
The only other place that I am aware that this happens is Cardiff.
And talking of the home of my mother, leads me to my next point.
I am sitting having a late lunch in Vence. A simple salad nicoise…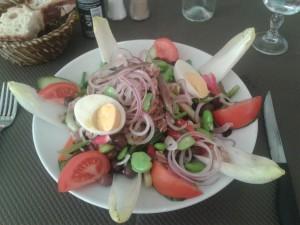 when Tom Jones comes on the radio. It's Not Unusual, he sings…and the chef, who has just appeared from the sweltering, downstairs kitchen looking shattered, is swept off his feet by one of the waiters as they do a duet, or should that be trio with Tom Jones!
I'm not sure they knew the lyrics but they threw their arms around and gyrated to the tune, with perfect timing.
It was impromptu and hilarious.
And now it is market day. It is just a one minute walk back from the square to my house. I can hardly wait.
Melon, apricots,figs, cherries. A perfect crottin ( goat's cheese). An oh so crispy, delicately flaky pain aux raisins.  Two, yes only two, big as my hand, each, langoustine and a red pepper the colour of a good claret.
Pictures. You want pictures? Sorry. No can do. Ate the lot, Homer Simpson style…nom, nom.
But here are some flowers from my garden. I recognise the roses and the lavender but have no idea what the others are.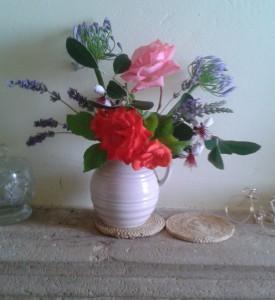 Any suggestions? Now, if I can just get the mosquitoes to go somewhere else. I will be happy. Very happy indeed. 🙂