Not particularly riveting news I grant you BUT where I found this small man may be a cause for, amusement/concern/tradition?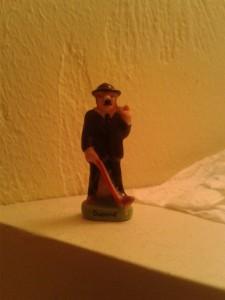 Where did I find him? Here's a clue.
I have tried many things over the years for the fun of it but I can categorically state I have never had the whole of a man's head in my mouth before…
Until now.
Although joking with my favourite restaurant, that I prefer to eat at home so I can eat like Homer Simpson ( one arm in a sling at the moment prevents usual delicate table manners) I am more of a nibbler than a gulper.
Thank goodness.
I thought the pastry was a little hard. I slowly removed the rest of the galette from my mouth to be greeted by a man with a moustache…
Yep, in my 'cake'.
It's normal, the boulangerie tell me.
Hmm, really? For once I am torn.
As much as I love the way France sticks to its  traditions, I couldn't help but wonder how a broken tooth would make me feel along with my broken arm…
I don't want to be a killjoy but can't help but wonder at the different attitudes to such things between, say,
the UK and America.
I remember reading recently that kinder chocolate, the ones with small toys inside, were banned in the U.S? And could you claim on your health insurance if you broke a tooth whilst biting into your galette?
Or…
Reason for claim? I choked on a man's head…
Believe me I really don't want us, as in Europeans, to become litigation mad like some countries I could mention but maybe a sign about the galettes- may contain small man-wouldn't go amiss?
😉