I've had a very good 7 days, food wise.
I live in a small medieval village in the south of France and the variety of food available is a daily pleasure.
No beans and no French fries.
Here's my menus over the last 7 days.
Aioli. see below.
Daube with beef, red wine and morels.
Pad Thai (prawns)
Lemon and almond chicken couscous.
Salad paysanne with gesier,smoked duck and lardons.
Pot au feu with lamb.
Herring and potato salad.
And yes, I do believe variety is the spice of life!
I didn't think to take photos of all of them but here are some.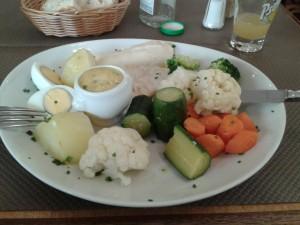 A delicious mix of white fish (often cod) with fresh cooked vegetables, hard boiled egg and garlic mayonnaise.
Chicken Couscous. A wonderful pot of carrots, courgettes, turnips and celery accompanied the light couscous with sultanas. I always find the 'extra' chick peas a little superfluous and the harissa. Hot!! the chicken itself cooked to perfection with lemons and almonds. yummmm.