Best job in the world #4
3 rd June 2021
By the time you read this many things will have changed…again. 
If I was trying to put an amusing spin on what is basically a second year of confusion and frustration I would say it is like being trapped inside a bizarre version of the Hokey Cokey!
No sooner than we have one step in , we have to take it out and shake it all about. 
Life is always a cacophony of ups and downs. Some louder than others. 
But for many carers, their clients and families it has been full on. 
For example a client with dementia being told their neighbours can't come round for their usual weekly knit and natter session, seems paramount to cruelty from the client's point of view. 
But let's not dwell on the gradually unfolding horrors that 20-21 has become and let us carpe diem. 
For those of us who can and thereby hangs the problem.
One of the main reasons I chose live in care work 28 years ago was to have control and unlimited freedom over my life.
Of course I am not alone. Our freedom is seriously curtailed at the moment but hopefully we do still have a good twenty years or so left to seize the day.
But listening to clients in their 80's and 90's has really brought into focus just how little control many of them actually had.  More than once, I have heard this refrain. 'But I had no choice!'
I can see more clearly now where the supposed idyll of family life comes from and why stoicism was the order of the day. Widows who reflect on freedom…too late. Watching one of Michael Palin's programmes I asked my client if they had visited that particular location? 
'No. Don't rub it in!' one client said to me. 
That shut me up. 
I had inadvertently poked a whole in her shining armour of the perfect wife and family life. 
Sometimes, least said, soonest mended. It's a tightrope. And sometimes we fall off.
But hopefully, as carers we can climb back on. 
Meanwhile let's not fall off into the abyss of Pointless, the 6pm news and programmes about animals…
**
I remember once going back to France and stepping out of my front door, heading for the village square with its wonderful array of shops with local produce. Boulangerie was within wafting distance!
The guy at the greengrocers was perfectly bilingual and renowned for his quirky sense of humour. 
Although not a word was spoken on this occasion, as I approached the delicious array of fruit and vegetables in wooden cartons, his actions told me exactly what I needed to 'hear'.
Left: This image shows market day in Tourrettes-sur-Loup from Cafe du Midi.
He walked from his shop, exactly imitating my gait. 
Quasi modo meets Nora Batty.
It took me a second as he shuffled back into his shop and stood in the doorway; arms folded, smirking, to cotton on. 
I had become one of my clients!
I was shuffling along, shoulders hunched, gripping my shopping basket, deep in thought. 
Biting my lip and relaxing my shoulders I started to smile. 
He gestured, applause.
By the time I reached the display of melons, apricots, cherries and all other serious delights I was laughing, two inches taller and rolling my eyes at myself. 
My point being, don't lose yourself through osmosis with your clients. 
**
So what could a French GP in a small French village and an Irish car mechanic in Southampton possibly have in common?
They both gave me good advice. 
With the doctor I was voicing my concern that most of my family on both sides died of some form of cancer. His reply : You know too much. Stop thinking about it. And genetics is not destiny. 
He also said that doing live in care work was toxic. Very unhealthy! I didn't give up care work but what I did take on board is that worrying about the 'what ifs' is crazy. 
The car mechanic had a similar philosophy.  
I had taken my beloved Reanult 5 in for a service. He asked what was wrong with it?
I said, 'Nothing I just thought it was due for its service.'
'Take it away, why don't you.' he said ' Problems will find you soon enough. No need to go looking for them.'
**
I often see carer's comments about their beds. 
Like everything else (one man's meat is another man's poison) beds can be tricky. 
Too hard, too soft etc. 
Some say they could sleep on a clothes line if someone pegged them on and years ago I was one of those. Not any more. Now I have the perfect solution. 
I don't have a car but with the money I save I take a taxi between destinations to be sure I get a good night's sleep. 
Before this invaluable purchase (see mattress topper en-route to my storage unit) I had my fair share of uncomfortable beds. 
And clients' responses were just as varied as the beds themselves. 
On one occasion I was horrified to see I was expected to sleep for 3 weeks on a narrow, single, canvas camp bed. No mattress! Luckily it was warm and I used the duvet, folded underneath me. 
I did ask if there was a mattress available? Apparently this came close to asking for the moon and sixpence? 
I survived…just. 
On another occasion a regular carer had been living in for…wait for it…18 months and sleeping on a fold out bed settee that literally had springs coming up through the material! But she 'didn't like' to mention it to the client…?!
After two nights I gently asked the client to try out the carer's bed (blaming my arthritis) 
She was utterly horrified. 'You can't sleep on that' and immediately started looking to order a mattress topper or even a new bed. 
The latter arrived within 48 hours. 
There is a lot of talk these days about how we need to love ourselves. 
This situation is a good place to start and remember if you don't ask (politely) you don't get. 
**
Finally, from the goody bag.
Au cafe: I have it as a poster and a calendar. 
It is a popular image. 
Paris 1922. 
Two women, one writing in her diary/notebook?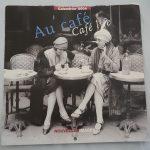 People sometimes ask me where I get my ideas from. 
Here is a classic example. 
You see two unknown women. 
I see the beginning of a stage play about Colette and Madonna. 
Both iconoclasts of their time. Colette died in 1954. Madonna was born 4 years later. 
But the similarities of their stories from teens to their 50's is quite remarkable. 
So I had the idea that in a contemporary setting at a cafe in Paris, Colette would approach Madonna and ask her to tell her/their story…
Still a work in progress but now that theatres are open again…watch this space. 
**
Coming up in July. 
Expand your horizons. 
When I began live-in care work in 1993 I decided I would work my way through every county in England and some parts of Wales. Variety is the spice of life. 
From my goody bag. 
Emirates Business class label. The upgrade. Was it worth it? 
And if you enjoy short stories based on care work. Check out. 
A Mouse in the Vinaigrette.
Available in paperback and ebook on Amazon.