The perfect way to spend 5 NICE days and four nights on the Cote D'Azur on a budget.
Okay, I live 20 kms away and have been here for over eight years but there are still places I haven't seen or really want to revisit. It just is… the most spectacular place.
So, here are some suggestions for a long weekend. Thursday to Monday. 
Accommodation tip: I use booking.com they seem to have all the details you will need. Plus, for the budget conscious I would recommend using one of the many aparthotels that exist. Best of both worlds. Self catering but with breakfast supplied if you want it. However with the numerous beach cafes it is hard to resist the sounds of the Mediterranean lapping at your feet whilst you devour a fresh croissant, jus d'orange and an expresso.
Once you have settled into your accommodation there are two places nearby worth exploring.
The old town. Prepare to get lost. I always do.
And Parc Phoenix. Only 3€ entrance fee. Click the link for photos.
https://www.google.fr/search?q=parc+phoenix&espv=2&biw=1366&bih=643&source=lnms&tbm=isch&sa=X&ei=5bJuVd2UCMzbUY_SgcgF&ved=0CAcQ_AUoAg
There is a plethora of restaurants and cafes along the promenade des Anglaise to suit every taste but a tip would be this. Go two or three streets back from the seafront for authentic nicoise food.
Get up bright and early on Friday morning and take the bus to Eze. It is over commercialized these days but the views from the top are breathtaking. Last time I was there I was watching helicopters flying below me! Bus costs 1.50€ each way. About £1.10 at current time. June 2015.
https://en.wikipedia.org/wiki/%C3%88ze
For the afternoon, either carry on to Monaco where you can sip tea or cocktails at the cafe opposite the Hotel de Paris and watch the suckers pile into the Casino, having just parked their Lamborghini at an angle so that no one else can park alongside.
Or, you can head back to Nice and go to the Negresco for much of the same.
https://www.lhw.com/hotel/Le-Negresco-Nice-France
On Saturday you will need all day to do these two justice. The gardens alone at the Villa Ephrussi are worthy of a half day. Fabulous! Check their events list because the 'musical fountains' are a lot classier than they sound.
https://www.villa-ephrussi.com/en/home
https://www.villa-kerylos.com/en/home
Sunday has to be museum morning. This place, more like a very large house is truly delightful. I felt as though i was stepping back in time and understanding a lot about the history of this famous resort. And it is free!
ce-attractions/nice-museums-and-galleries/massena-palace-museum-of-art-and-history.html
Or you could take the Train Merveilles from Nice up into the hills. There is a running commentary in French and English. Last time I went I got off at Breil-sur-Roya. A lovely tranquil backwater, complete with lake.
https://www.beyond.fr/travel/railcuneo.html
If you have time I would also recommend these two.
https://en.wikipedia.org/wiki/Russian_Orthodox_Cathedral,_Nice
https://www.worldeventlistings.com/en/nice/events/nice-observatory-guided-visit-e-602624
And an absolute must for me is the market on Monday mornings at Cours Salaya. Antiques, jewellery, clothes…pets?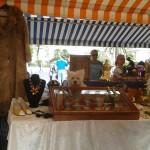 And with all this you have just scratched the surface! You will be back and with the choice of over 15 UK airports that fly to Nice you will have no excuse. I use skyscanner.com to find the best deals. Often mid week but not always. Whatever you do..ENJOY!