Hi, I'm Helen and a long time caregiver with Care and Choice. 
Here is the first of my monthly blogs.
When I hit 40 I decided I needed a change. 28 years later, over 30 moves and more jobs than I can shake a stick at, I still have the best job in the world. 
I needed to do something worthwhile. I wanted flexibility and time to write, travel and explore. 
Tick x 5. 
It began in spring 1993 with an advert in The Lady magazine. Cook, housekeeper and driver required by American lady in the south of France.  (Not the lady in the photograph. That is Dora, the most adorable client ever!) 
To say this turned out to be complicated is an understatement.
Find out more by reading:  A Mouse in the Vinaigrette.
But I was hooked on this Me, No-mad, me just free, lifestyle. 
Back in Blighty I joined a care agency who specialised in live-in care and my first client was basically the grandmother I never had. I was overly anxious to please and I still recall to this day, her comment when I mistook salt for sugar…don't ask…She soothed me with a smile and said: 'It's not a hanging offence!' 
Now, I'm not saying it is the easiest job in the world (what is?) But if your motives are similar to mine. You are onto a winner. 
During a more recent break (prior CV-19)  at an Airbnb I met up with a fellow carer. She was decidedly unhappy. I found out why. She told me this. 
'Let's be honest, we are only doing this job because we can't get work doing anything else!'
Wow.
I assured her that wasn't how I felt. Maybe she had been really 'unlucky' with her clients but if she started out with that mindset, she was doomed, in my opinion. 
I accept that doing live-in care work in your 40's is very different to your 60's when it comes to choices but life is what you make it. 
I reckon I now have a 'phD' in gerontology and can do Ready, Steady, Cook, blindfold!
You can't do something for 28 years and not want to share. You can't shortcut experience but maybe I can help?
From now on, on the 1st day of the month I will post my blog, Best Job in the World, on Care and Choice's website, my website, helenducal.com, facebook and instagram.
So here's a taster.
Something informative. 
Something to make you smile. 
Bread sauce and greenfly.
I follow some carers' facebook pages and I respect that it is a place where we can rant and or praise and get help securely. However, I sometimes feel it can be helpful to comment based on some of the observations. 
Here is one. A carer ranting about bread sauce. 
'What even is it? You'd think the end of the world had come when I didn't produce it with her turkey!'
Well, actually yes, that client's world as she once knew it, is ending. 
And familiar things are mainly what she clings onto so please look at her habits from her viewpoint. Not always easy but just take a moment when the client complains…if it's important to her try and comply. It's being kind after all. 
I say all this and then (in my head) fly off the handle (still, thought only) when I read a comment from someone on another facebook page who simply asks…What are greenfly? 
I mean how can someone not know what greenfly are?! 
Haha.
All of the above are about frame of reference. 
Living in someone else's shoes. 
Sometimes it's generational sometimes it's class and/or country of birth and upbringing. 
I like to think I am way more understanding, empathetic and tolerant (without eye roll) than when I started out almost 28 years ago but I still need to have stern words with myself from time to time. 
No one is perfect but we can be kind. 
 **Coming up in April. 
Peaceful porridge. 
Why I loathe ceramic- beeping- hobs! 
AND
Kids have security blankets. 
Live in carers are away from home, family and friends and all things familiar. As I don't have transport my essentials include a very lightweight bag of goodies.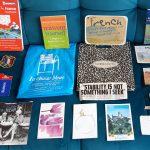 Each of these 20 items serves to ground me, soothe me and encourage me. 
Phoenicia hotel, Malta
Map of SW France.
Reinvent Yourself. Fiona Harrold
Gertrude Stein quote re the French. 
Map of Australia
France badge. Swiss F1 grand prix in Dijon, France. 
La Chaise bleue, shop, Nice. France.
No Regrets. Lingerie store in Sydney
 Postcard explaining difference between English and French
Upgrade to Emirates business class
Beatrice Dalle quote. 
25th September 1993. A day that changed my life.
Peanuts cartoon. Says it all.
Rhul Plage, Nice. Breakfast on the beach. 
'Colette and Madonna.'
Seek and you shall find. Advert. Tourrettes sur loup, France.
Good luck card from French friends 2018.
My first solo love. Angouleme, France. 2003
Melia Llana, Cape Verde. Wrist band. 
Note to self. 1987. How far I have come…
From April I will explain how this works for me one item at a time.